At the end of the 1970s, the average Japanese life span quickly rose to the top among the world's leading countries, resulting in greater interest in Japanese food. In the early 1980s, major cities in America began to experience a sushi boom. The number of sushi restaurants grew rapidly, but the supply of ingredients could not keep pace. As a result, there was a tendency to sometimes use inferior ingredients and serve crudely made sushi.
To provide high-quality wasabi across America under these circumstances, we established a sales office in Los Angeles (currently K.W.I.) in 1984 and launched our wholesale distribution operations. Initially, people outside of Japan had a low awareness of wasabi. The general attitude was that any wasabi was acceptable as long as it was green and spicy.
In response, we focused on promoting the characteristics of wasabi, such as the fact that it is a unique spice that is indigenous to Japan, and that it includes significant amounts of vitamin C and other healthy components. We also sought to promote the orthodox way of eating wasabi, which is to place it directly on sushi without first mixing it into soy sauce.
Up to that point, powdered wasabi was the mainstream product in America. We expanded the variety of wasabi available to consumers by becoming the first company to import fresh grated wasabi that was manufactured using our own ultracold fresh grating process to bring out the aroma and spicy flavor of authentic wasabi, as well as small packets for takeout sushi and sashimi trays.
In 2014, we established KINJIRUSHI WASABI INTERNATIONAL Co., Ltd. (a U.S. incorporated company), and we are continuing to pursue sales activities to promote wasabi in the United States.
International Products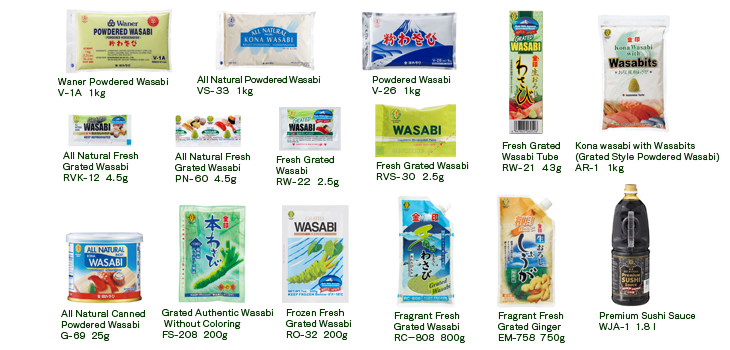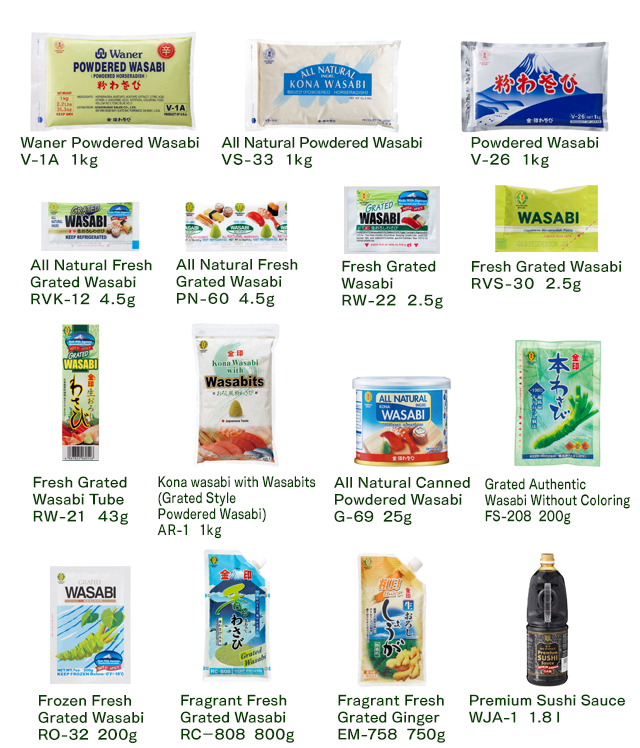 n 1994, we established an international sales division and began exporting international products to the Asia-Pacific region. In 2001, in response to the surging popularity of Japanese food in Europe, we began to actively participate in exhibitions to educate consumers about wasabi, and we launched full-scale export operations. We currently have offices in Frankfurt, and are engaged in sales activities across Europe. We have steadily expanded our presence in international markets through such activities, and now export our products to over 60 countries.
To bring wasabi to dining tables worldwide, the KINJIRUSHI Group will continue to promote the delicious taste of wasabi around the world.
INTERNATIONAL DIVISON

GEO Hacchobori Building 3-19-9, Chuo-ku,Tokyo 104-0032,Japan
TEL: +81 (0) 3 3523 4703
KINJIRUSHI WASABI INTERNATIONAL CO.,LTD
Los Angeles Head Office

3625 Del Amo Blvd, Suite #110, Torrance, CA 90503 U.S.A.
TEL: +1(310)214-0441

New York Sales Office

2125 center Avenue, Suite 315 Fort Lee, NJ 07024 U.S.A
TEL: +1(310)80-88873
KINJIRUSHI WASABI EUROPE GmbH
Frankfurt Head Office

Tilsiter Strasse 1 60487 Frankfurt am Main Germany
TEL: +49(69) 945192950