The top quality of quality control system in the spice industry
In order to deliver safe products to customers, Kinjirushi's quality control department conducts quality checks with various inspection equipment with specialized teams.

Pungency content test
Microorganisms test (general viable bacteria, E.coli)
pH value test
Pungency content test
Color value inspection
Salinity content test
Water content test
Fragrance test (fragrance series product)
Example of checked items
pH test
Water activity test
Water content test
Fragrance test
Kinjirushi's quality check extended to ingredients
1. Ingredients inspection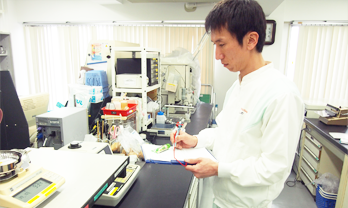 The inspector removes wasabi ingredients sent from production farmers, checks if there is any problem with color or condition and whether it is a safe ingredient not contaminated with microorganisms. In the case where ingredients are judged to have quality problems, the arrival is immediately stopped and a trace system assesses whether there is any possibility that ingredients with other problems are received.
2. Factory sanitation and question inspections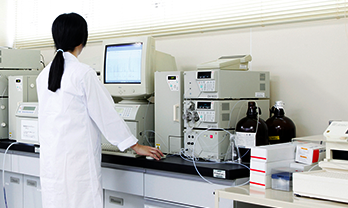 Several check items for delivering safe products are done everyday by an inspector of sanitation, such as whether the interior of the factory is kept clean, if dirt is not adhering to the manufacturing machine, or whether workers at the site correctly handle the product. In addition, products in the manufacturing process are inspected in the adjacent quality inspection room, and when the state is different from usual, the staff of the quality control department take an order to quickly investigate the cause and solve the problem.
3. Shipment inspection
Only products that have cleared the inspection items performed in all processes from the ingredient arrival up to the final product are shipped. In addition, an inspection is done to check whether quality is kept within the use range, such as the expiration date specified in each product and storage method, and whether the quality changes even when it exceeds the range of the storage method.
Strictly set ingredients quality standards
In order to produce high quality and delicious wasabi products, Kinjirushi has established strict ingredients quality standards.

Ingredient that passed quality standards
Microorganisms test (common living bacteria, E.coli)
Wasabi size and color
Agricultural chemical residue test
Material processing machine handling
Environment of material processing machine (over 70 items)
Example of checked items
Traceability system
We operate a traceability system in order to instantly investigate the cause and take measures in the case where a problem occurs. This system provides a system to quickly grasp the ingredients cultivation information, the usage status of auxiliary ingredients and food additives, and storage to distribution process, as well as to ensure safety.
Cultivation history record
Agricultural chemical residue test
Barcode management
Label including individual product information
Lot number printing on products
Production history information management
The quality of the product is established by the factory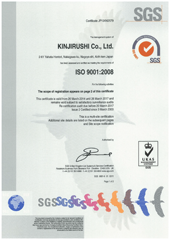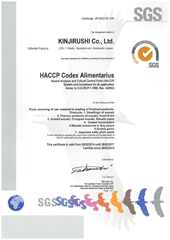 We acquired ISO 22000 series certification in 2017, and with our appreciated efforts on safety, Kinjirushi's production factory has cleared the standards of the world-accepted food standard "Codex".
The food standard "Codex"
It is an international standard for food made by FAO (United Nations Food and Agriculture Organization) and WHO (World Health Organization) in 1962, guaranteeing safety standards to be protected at all stages, regarding the standard on food quality, from the production stage of agricultural and livestock products to the customer's table.

Staff Interview
When you have to, do what you should do
Hiroaki Muramatsu, KINJIRUSHI Wasabi Co., Ltd.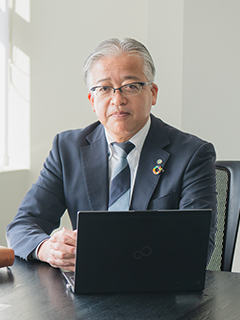 The quality control department monitors all processes from wasabi cultivation to sales. Check items can be broadly divided into "cultivation method", "pesticide to be used", "fragrance" and "standard". We visit each production place and perform unannounced checks on cultivation and pesticide used, such as "Are you cultivating in a determined way?", "Are you using defined agricultural chemicals?". In addition, the fragrance of the wasabi ingredients is inspected by gas chromatography according to the standard, and the shape and freshness are visually confirmed.
Since wasabi is handled the same as fresh foods, it is a very delicate ingredient that can not be sterilized by heating, so thorough storage and transport management are necessary. After harvesting, it is important to process wasabi as quick as possible. In households, room-temperature type tube wasabi is the norm, but if you do not recognize that wasabi is a vegetable, genuine fragrance or pungent cannot be delivered.